Innovative CoolSculpting is a fat cell diminishing treatment created to sculpt and mold your body. By freezing tough fat cells without resorting to more invasive procedures, you can reshape areas with CoolSculpting at Neem Medical Spa.
This nonsurgical fat reduction technique employs the application of regulated cooling, also known as cryolipolysis, to freeze fat cells so they may be eliminated from your body to create a smaller silhouette. Our board-certified internal medicine physician, Dr. Rosy Sandhu, offers advanced CoolSculpting to help you realize your body shape goals. Schedule an appointment for more information about CoolSculpting and find out if this treatment is the right one for you. We have offices in Somerville, Lynnfield, and Winchester, MA.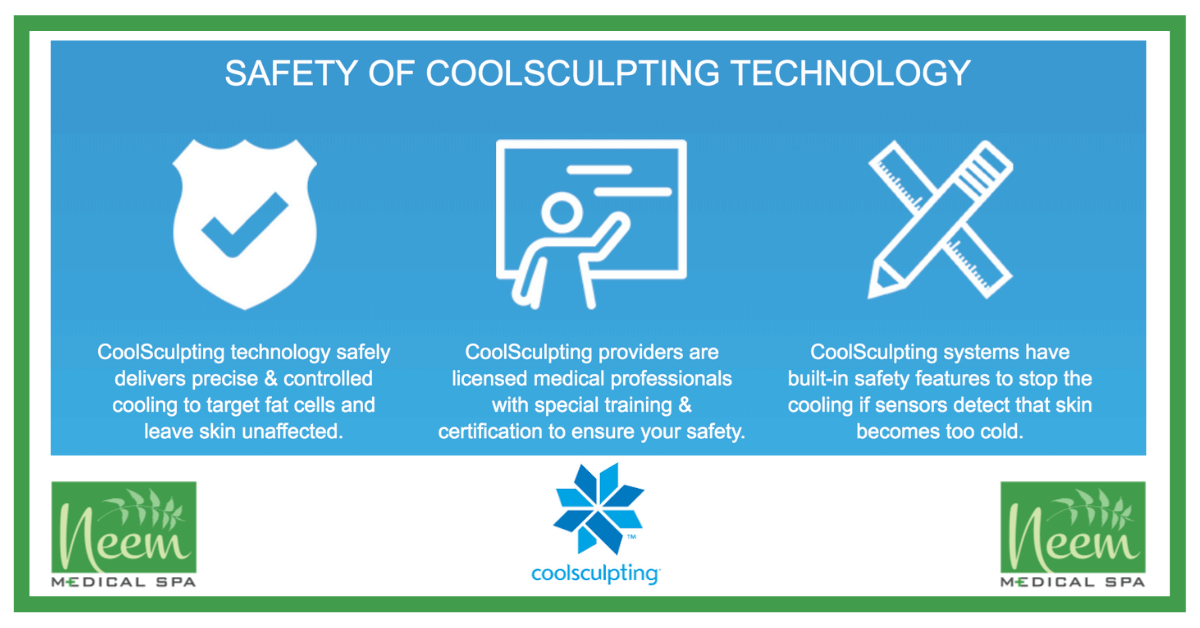 Our Fire And Ice Treatment
For an enhanced experience, ask about our "Fire and Ice" treatment at Neem Medical Spa. We strategically combine the high-intensity body sculpting using CoolSculpting, TruSculpt, VANQUISH, and the Exilis Ultra for fat loss, cellulite reduction, and skin tightening.
Reviews
"I drive from RI to see Dr. Sandhu in the Somerville location because she is AMAZING, as is her staff! Dr. Sandhu listens to my concerns and offers multiple ways to answer those concerns, all of which are a conservative approach, which I appreciate so much! Highly recommend!"
- S.W. /
Google /
Oct 19, 2019
"If you love beauty products and pampering like I do, Neem is a MUST GO! I have lived in Somerville the past 3 years and have been going to Neem for the past two years. The ladies are all so welcoming and friendly. They offer EVERYTHING and the prices are unbeatable! They are my go-to spot for Facials, Fillers, and Weight Management, talk about RESULTS! As a Licensed Esthetician myself, I appreciate the professionalism, dedication, patience, knowledge, and genuineness. Dr. Sandhu is one of the kindest souls and one of the most passionate business woman I know. Keep it up Ladies!"
- F.G. /
Yelp /
Oct 17, 2019
"What a lovely combination of great services (skin, hair, body), wide selection of products, and a wonderful team! I love this place! I had my coolsculpting very professionally done by Fran and I thoroughly enjoyed our time together, she made sure I was comfortable throughout the whole procedure, and even ordered me a smoothie from the Cafe next door. So sweet! My results were great. I also had the hair restoration treatment with ECM that was beautifully done by Dr Sandhu, painless! By the time I'd left, all my prewedding Bride jitters were gone and I walked out ready to thoroughly enjoy and shine at my wedding, that is just a few months away! A heartfelt thank you to wonderfully fabulous Dr Sandhu, Fran, and Amanda!"
- L.H. /
Yelp /
Oct 17, 2019
"I can't say enough about Dr. Sandhu, Neem Med Spa and her staff.  I have been going to Dr. Sandhu (Neem Medical Spa) for past three years. All of Neem Spas are beautiful, relaxing and super clean. This place is very accommodating, I enjoy my visits here. I have done several different treatment over the period of time. I'm delighted with my results from Kybella, Coolsculpting and couldn't be happier. Dr. Sandhu is very knowledgeable,  informative, meticulous and a perfectionist. She takes her time to make sure she is delivering the best treatment possible. I completely trust her.  The results have been wonderful. The staff is very friendly, fun and the office feels like a family. I never felt pressured and took my time in picking my desired treatments. I feel comfortable voicing any concerns, and she is always there to listen and fix any issues. I'll highly recommend."
- P.V. /
Yelp /
Sep 26, 2019
"Been coming to Neem for three years now. My experiences with Neem Medical Spa has always been wonderful. I see Dr. Sandhu and Jenny for my treatments and I can't say enough wonderful things about..."
- J.F. /
Yahoo /
Aug 19, 2019
Previous
Next
CoolSculpting Treatment Technique
While this treatment has shown to be beneficial with both women and men of different age groups, you may benefit the most from CoolSculpting if:
You are at or near their ideal weight.
You have difficult areas of fat that have not responded well to exercise and diet efforts.
You do not want or are not a candidate for more invasive procedures.
You have realistic expectations as to what CoolSculpting can do for your body.
CoolSculpting is not for candidates who are looking to lose a significant amount of weight. It is only ideal for small bulges of fat in the abdomen, flanks, chin, arms, or thighs that are unaffected by diet and exercise.
During your CoolSculpting treatment in a private room, we will prepare your skin with a specialized gel pad. With the CoolSculpting fat reduction process started, you should feel cryolipolysis begin. You will feel an intense cold within the treatment area for the first several minutes. This should subside after ten minutes because the area should feel numb. You may experience a tugging or pulling sensation as the CoolSculpting continues. However, it should not be painful. Many CoolSculpters will read a book, take a nap, or watch a movie during their treatments.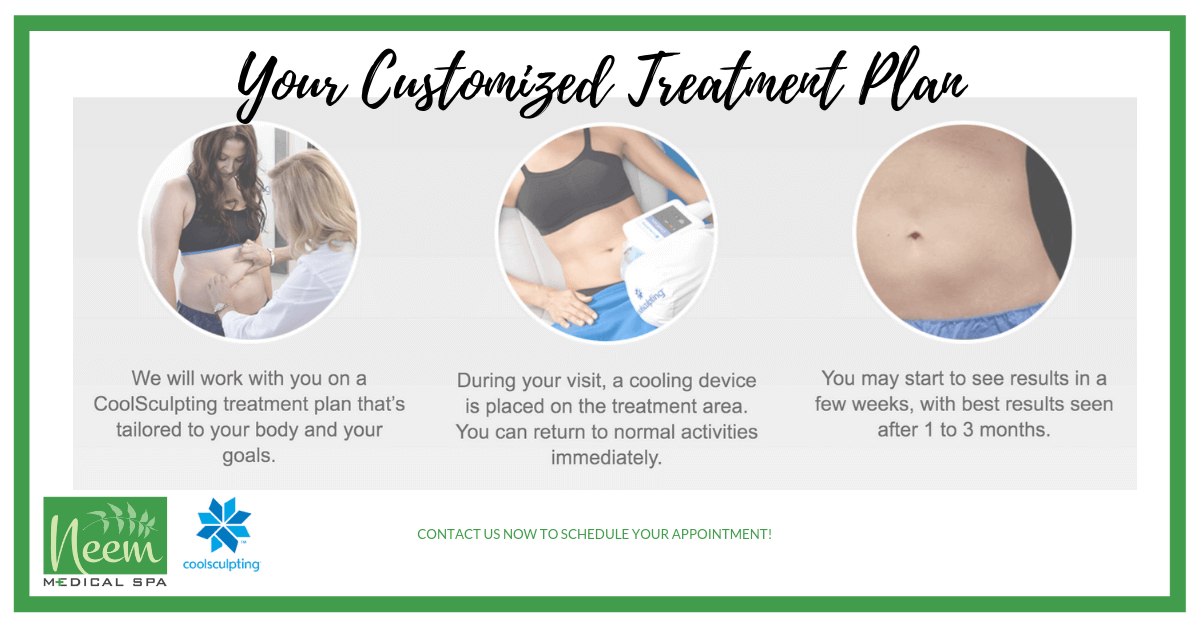 What to Expect with CoolSculpting®
Since CoolSculpting is noninvasive, you can expect to return to daily activities following your procedure. In most circumstances, you can return to school or work immediately after your treatment. Side effects of the treatment can include bruising, stinging, redness, swelling, and discomfort of the treated site, which usually fade within a few days. If you have any serious pain following treatment, contact Dr. Sandhu immediately.
You can expect to notice results within three weeks. You will see the most obvious and dramatic results 1 – 3 months following your CoolSculpting sessions.
CoolSculpting Ideal Candidates
There is no such thing as the perfect body, and we all have things we wish we could to change. This is specifically true for areas of fat that will not respond to exercise and a healthy diet. Due to technological advances, it is no longer necessary to decide between dealing with the undesired fat or having liposuction. Neem Medical Spa is excited to offer Boston, MA area men and women our CoolSculpting. This will minimize sections of stubborn fat without invasive procedures. Schedule a consultation with Dr. Sandhu to find out if you qualify for CoolSculpting or whether a different treatment would better for a smaller, tauter body
Related Posts